Find Clear Vision & Convenience in Contacts
Contact lenses offer the wearer clearer vision without frames or surgery. Advances in lens technology mean contacts are more comfortable and available to more people than ever before.
Visit See B. Seen Eyecare + Optical Bar for a comprehensive contact lens exam and start your contact lens journey today.
Matching You With Your Ideal Contact Lens
We're dedicated to finding the right contact lens to keep your eyes comfortable and your vision clear. We've outlined the steps your appointment will follow when you come to get contacts.
Contact Lens Exam
A contact lens exam takes longer than a regular eye exam because we need to take additional measurements and calculations.
At See B. Seen Eyecare, we use corneal topography as part of our contact lens exam. This technology scans the surface of your eye to create a 3D map. This shows us if you have any corneal irregularities that can make wearing contacts more challenging.
There are specific measurements needed to get a good fit for your contacts. Measurements include:
Base curve, which determines the curve on the underside of the contact lens
Iris measurements
Pupil measurements
The quality of your tears
These all help determine which lens is best for your eyes.
Contact Lens Fitting & Trial
Once we've evaluated your eyes, we'll pick a selection of contacts that could work for your eyes. Getting a good fit is critical for comfortable lens use and healthy eyes.
After settling on the lenses that work best for you, our team will teach you about contact lens care. Care tips include:
Always wash your hands before handling contacts
Use the appropriate lens solution—not water, not saliva
Remove and dispose of contacts as directed
Return for regular eye exams to make sure your eyes remain healthy after contact use
After a trial period with your new lenses, we'll re-evaluate your ocular health before supplying contact lenses.
Specialty Contact Lenses
At See B. Seen Eyecare + Optical Bar, we want to offer our patients their preferred choice in vision correction. That's why we carry specialty contact lenses for harder-to-fit eyes.
Scleral Lenses
Scleral lenses cover a larger portion of the eye, vaulting over the cornea to rest on the sclera (the white of the eye). These are used for people who have conditions like:
Hybrid Lenses
Hybrid lenses blend different materials, often with a rigid gas permeable center and a soft outer ring. They're designed to treat eyes in need of more than one type of correction.
Multifocal Lenses
Multifocal lenses offer correction for multiple types of refractive errors, like nearsightedness and farsightedness. Like bifocals glasses, they can also correct vision while addressing presbyopia. They come in multiple materials to suit different eyes.
Ortho-K
Orthokeratology lenses (ortho-k) are rigid contacts that gently reshape the cornea to correct vision for a short period after the lenses are removed. Many of these lenses are designed to be worn overnight.
RGPs
Rigid gas permeable lenses are made of a harder plastic that allows oxygen to pass through the lens to the eye. They offer crisp vision but may have a longer adjustment period than standard soft lenses.
Cosmetic Contacts
Contact lens technology not only provides improved vision—it offers an array of cosmetic choices, too. We can recommend colored contacts to enhance your eye color, disguise any color variations on your eye seamlessly, and change your eye color.
Contacts for All
We work to find contacts for everyone. Whether you're looking to shed your glasses for sports and activities, change your look for a special occasion, or just want to have more than one vision correction aid on hand, we carry contacts that can correct your vision. Visit our office for a comprehensive exam and contact fitting.
Our Location
You can find our practice next to Main Squeeze Juice Co on Parkwood Avenue. If you have any trouble finding our office or have any questions before your visit, please give us a call.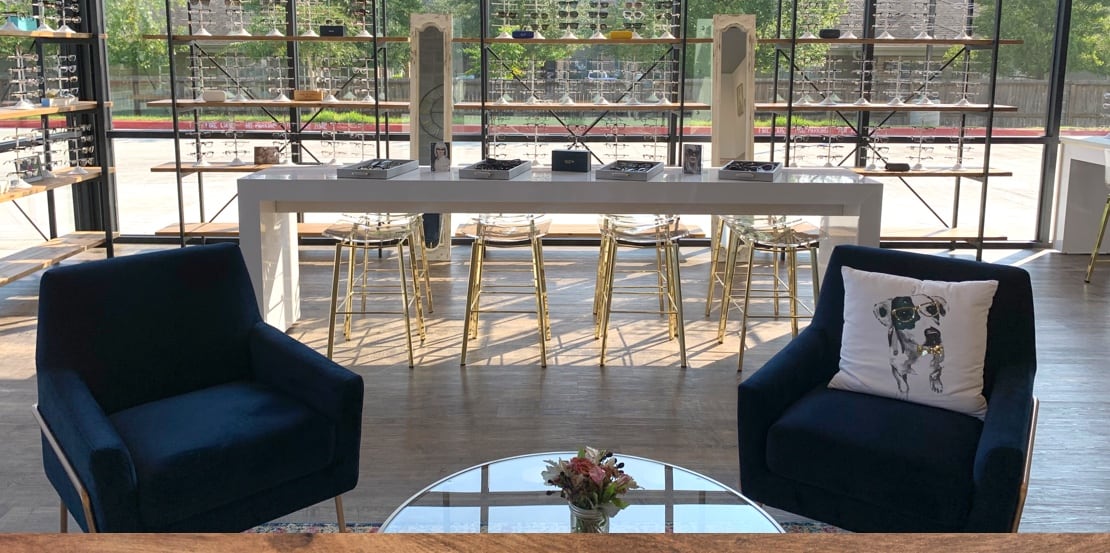 Our Address
1501 W Parkwood Ave, Ste 101

Friendswood

,

TX

77546
Hours of Operation
Monday

:

10:00 AM

–

5:00 PM

Tuesday

:

10:00 AM

–

5:00 PM

Wednesday

:

10:00 AM

–

5:00 PM

Thursday

:

10:00 AM

–

5:00 PM

Friday

:

10:00 AM

–

2:00 PM

Saturday

:

Closed

Sunday

:

Closed