Investing in Healthy Eyes
Supporting healthy eyes and vision starts with regular eye exams, which means more than just updating your prescription. Your eye exam is an opportunity to ensure any issues are identified early and your eyes are receiving the care they deserve.
During your eye exam, you'll have the opportunity to meet our welcoming and compassionate team. We're here to answer any questions you may have before, during, or after your appointment. After all, no one spends more time with your eyes than you, and we want you to feel confident with your eye health.
The Importance of Eye Exams
Just as you visit your physician for regular check-ups and your dentist for teeth cleanings, your eyes require the same sort of attention. Eye exams are used to test visual acuity (how well you see) and ensure any refractive errors are corrected and controlled. They're also your best defense against eye diseases and conditions that could emerge without showing symptoms.
To best support your eye and vision health, the American Optometric Association recommends patients between 18 and 64 years of age have an eye exam at least every 2 years. For patients over 65, yearly eye exams are recommended.
If we identify vision or eye health issues during your exam, we'll discuss our specialty services and how they benefit you.
Our specialty services include:

Common Eye Diseases
Glaucoma
Glaucoma is a leading cause of blindness in people over 60. Often showing few symptoms at the beginning, glaucoma can cause complete blindness if not managed early. The eye disease is caused by abnormally high pressure in the eye, specifically targeting the optic nerve. Regular eye exams are the best way to identify glaucoma early.
Cataracts
Cataracts are caused by the clouding of the eye's natural lens. While this is a natural part of aging, certain lifestyle habits and health conditions can cause cataracts to develop faster than usual. Managing diabetes, quitting smoking, and wearing UV-protected sunglasses are all ways to slow the progression of cataracts.
After cataracts have developed, vision can be corrected with glasses, but cataract surgery may be needed for some patients to experience clearer vision. This surgery involves removing the eye's natural (now clouded lens) and replacing it with an artificial lens.
Age-Related Macular Degeneration
Age-related macular degeneration (AMD) is a disease that affects the central part of the macula, which is the centermost part of the retina. The macula is responsible for central vision, making tasks like reading and focusing on objects possible. As patients age, the macula can start to wear down, causing AMD.
There are 2 different types of AMD. Dry AMD is more common but less harmful. The dry type is caused by drusen deposits in the macula. Wet AMD is less common but more harmful. Typically, wet AMD will develop from dry AMD, caused by blood vessels breaking under the macula and leaking fluid into the retina.
Book Your Next Visit
The best way to support healthy eyes and vision is to visit for regular eye exams. Book your next exam today!
Our Location
You can find our practice next to Main Squeeze Juice Co on Parkwood Avenue. If you have any trouble finding our office or have any questions before your visit, please give us a call.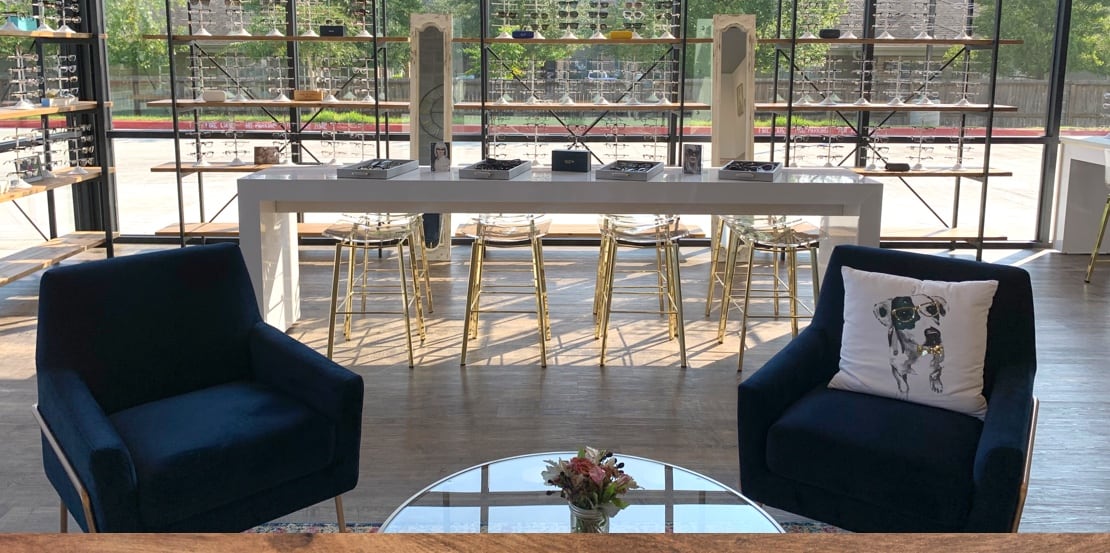 Our Address
1501 W Parkwood Ave, Ste 101

Friendswood

,

TX

77546
Hours of Operation
Monday

:

10:00 AM

–

5:00 PM

Tuesday

:

10:00 AM

–

5:00 PM

Wednesday

:

10:00 AM

–

5:00 PM

Thursday

:

10:00 AM

–

5:00 PM

Friday

:

10:00 AM

–

2:00 PM

Saturday

:

Closed

Sunday

:

Closed